GRAND PRAIRIE SANTA COPS AND SANTA'S SPOT HEADQUARTERED AT NATIONAL AUTOBODY PARTS WAREHOUSE, INC.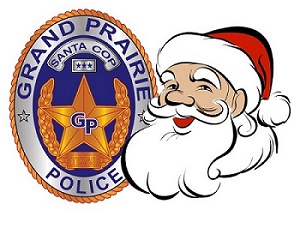 Grand Prairie, TX, December 19, 2013 - Starting in October, volunteers from the Grand Prairie Police Department and Fire Department worked tirelessly to bring food and toys to families in need in the city Grand Prairie at the Santa Cop and Santa's Spot headquarters located at National Autobody Parts Warehouse, Inc. This year, over 400 families received food from the Grand Prairie Fire Department's Santa's Spot effort and 1500 children received toys from the Santa Cop efforts, according to volunteer Santa Cop Vice President Chris Chopin. When Bob O'Neal, Grand Prairie Director of Business and Retail Recruitment and Heath Wester, Santa Cop Vice President, approached Mike Dolabi, President of National Autobody Parts Warehouse, Inc. for a possible headquarters location for the program, Mike answered with an immediate yes. Giving back to the community and being a part of this cause is an honor and we are proud to help, said Dolabi. Each year, our hearts are warmed and we are reminded of the importance of giving when we see people bringing toys, volunteers working late into the night and, on the final day, watching the U-hauls leave our facility to bring happiness to so many adults and children in Grand Prairie. Mike added. This changes your heart. We are now able to reach more families in Grand Prairie because of the way we distribute, said Chris Chopin. Santa Cop and Santa's Spot toys and food was distributed at nine strategic locations throughout Grand Prairie. Families, recommend by the Grand Prairie Police department, Fire Department, Grand Prairie school counselors and city departments, received post cards earlier this month and are asked come and accept these gifts. With a desire to bring the community together and provide toys for the children of Grand Prairie, volunteers from the Grand Prairie Police Department began the Santa Cop program in 1983. Now, working with the Grand Prairie Fire Department and the Marine Corps Toys for Tots, the Santa Cop and Santas Shop program has built a community bridge of support, food, toys and friendship. The giving and community assistance does not stop with Christmas. As the year goes forward and tragedy strikes the Grand Prairie community and its citizens, the volunteers, working with the Grand Prairie Police Chaplin Emil Balliet, the Police Department Victims Assistance team and the Fire Department are able to respond with food and items of need to those who experience the unexpected. If it wasnt for the volunteers, we couldnt do this. And if it werent for National we would not have a headquarters. said Santa Cop President Mark Calvert. . National Autoobody Parts Warehouse, Inc. is honored to provide warehouse space for the Grand Prairie Santa Cop toy drive and the Santa Spot food drive.
With 25 years of automotive parts experience and a continued focus on quality, customer service and competitive pricing, National Autobody Parts Warehouse, Inc. distributes automotive aftermarket crash parts throughout the United States. National Autobody Parts Warehouse, Inc. is recognized as a TYC distributor, a Farmers Preferred Parts Provider, ISO 9001 Certified. For more information contact us at (800) 214-7222.